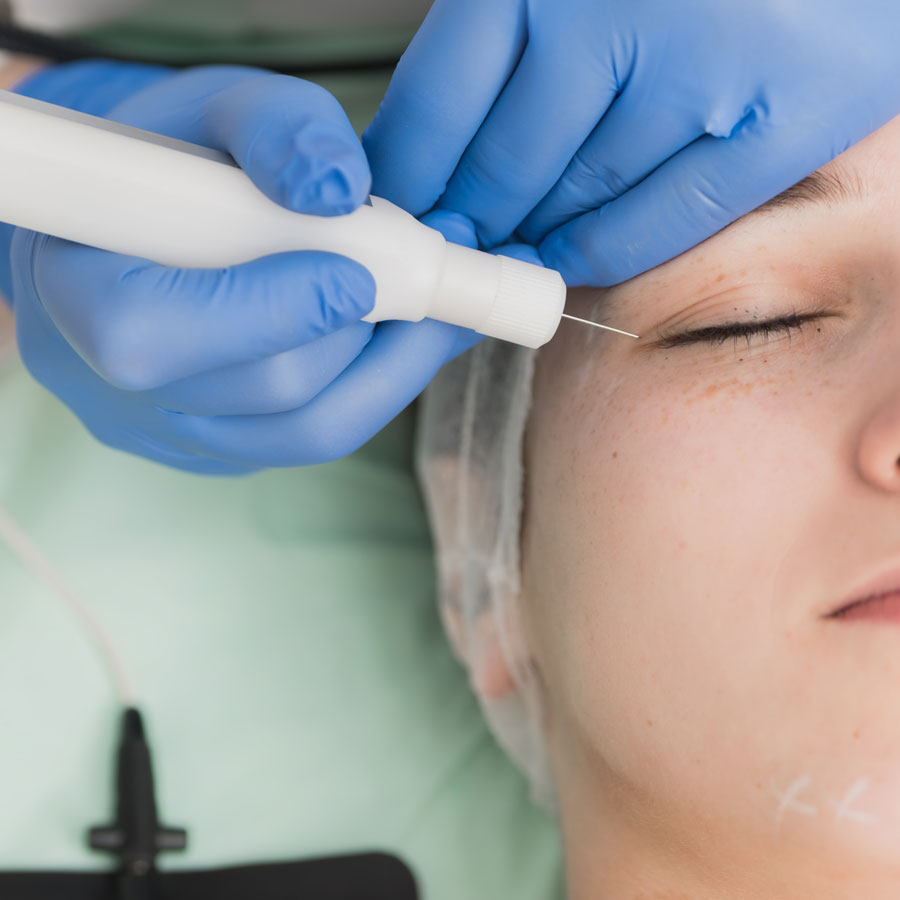 Upper eyelid £295
Lower eye bags £295
Crows Feet £150
Neck From £250
Smokers Lines £150
Acne Scarring £50
Marionette Lines £175
Nasolabial Folds £195
Single Deep Wrinkle £70
Chest from £395
Upper Arm from £399
Baby Belly from £399
Mole Removal £55
Stretch Marks from £80
Skin Tag removal £55
Age Spot £50
What is Plasma Pen?
Plasma Pen fibro blasting is a highly versatile procedure that is stunningly effective in wrinkle smoothing, eyelid tightening and eyelid hood reduction. It treats, repairs, lifts, regenerates and rejuvenates almost any area of skin. It dramatically improves and brightens skin tone, laxity and texture, significantly tightens loose skin and reduces and plumps out lines and wrinkles. Plasma Pen helps to deliver a brighter, more contoured and youthful appearance. Results are immediate and and improve over the healing period – an excellent alternative to fillers or skin tightening lasers such as CO2.
Why should you choose Plasma Pen?
As we age, the dermal layer thins, less collagen is produced, the elastin fibres which provide our skin elasticity (taughtness) wears out and all these changes in the scaffolding of the skin cause it to wrinkle and sag. In simple terms, our skin loses laxity and texture as we grow older. It becomes loose, it sags and lines and wrinkles appear. In addition to successfully treating lines and wrinkles, Plasma Pen Technology mimics results of Plastic Surgery interventions, specifically very popular procedures for the eyes such as Upper and Lower blepharoplasty (upper & lower eyelid surgery) where a surgeon will physically remove loose skin in order to rejuvenate the eye are. Plasma Pen offers a 'soft-surgery' alternative which reverses the effect of eye ageing, a notoriously difficult part of the face to treat without the use of a surgeon's scalpel! Plasma Pen treatment eliminates this element, discomfort and down time is much less and results rival surgery!
The results of Plasma Pen:
Plasma Pen contracts the surface skin tissue creating immediate lift and dramatic skin tightening.
It rejuvenates the epidermis by forcing old skin cells to shed and replacing them with fresh new skin cells.
By targeting fibroblasts in the dermis, it begins stimulating collagen and elastin production which in turn plumps, inflates & lifts the structure of the skin over a sustained period of time.
Plasma Pen helps to re-shape, re-build and strengthen the scaffolding within the dermis to give it elasticity and flexibility.
The inflammatory response and the healing process stimulated by Plasma Pen helps prevent the negative behaviours which cause wrinkles.
It activates and releases important proteins in the dermis to regulate and slow down cell maturation (ageing) and encourages tissue re-generation and repair.
You will achieve immediate results and those results then improve significantly over the coming months.
How long do results last?
Results last around 3 years (although many results are permanent).
What are the benefits of Plasma Pen?
No needles or cutting of the skin
No scalpels, no cutting and no ablation
No stitches and suturing required
Very low risk procedure with minimal side effects and very short down time
A quick and easy procedure with rapid recovery -most patients are able to return to work the same day
Leave a Review About this Treatment