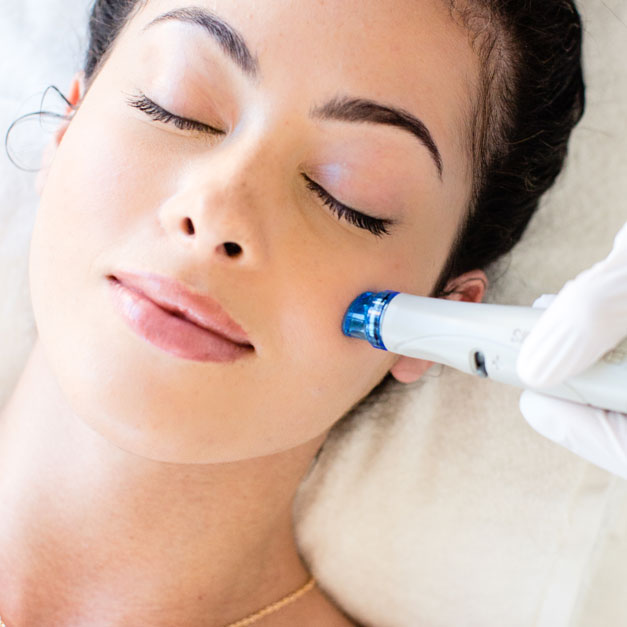 What is Hydra- 6 facial?
The Hydra- 6 Facial the optimum treatment to gently support skin health and deliver a flawless complexion. It is a multi-step treatment that uses 6 advanced technologies to cleanse, exfoliate. resurface, tighten, tone, plump & decongest the skin. During the treatment dead skin cells and impurities are removed with a gentle subtle hydro jet and additionally the skin is further hydrated with antioxidants and peptides. Unlike other treatments, Hydra-6 Facial can be had as often as weekly to achieve a fast and long-lasting result. Results are cumulative. This is the ultimate results driven treatment with zero down time.
Also known as Hydra-dermabrasion, this treatment differs from Micro-dermabrasion other which uses crystals to blast the skin.  However, our gentler approach vacuums out pores while the other technologies simultaneously push in potent actives, which moisturise, brighten, plump, and protect. The skin is further illuminated & invigorated with the oxygen jets, that penetrate the skins surface for the ultimate 'plump'.  As well as taking skin from dull to glowing in one treatment, the treatment is an excellent precursor to a variety of adds ones like glycolic and salicylic acids which further target brown spots or fine lines& open pores We can also finish the process with LED light therapy which is scientifically proven to enhance skin health for a variety of skin conditions and concerns.
Whether you're simply looking to maintain the healthy condition of your skin or are concerned about acne or pigmentation or ageing Hydra-6  facial can be catered to your needs.
Hydra- 6  facial can help a variety of conditions
Ageing – fine lines & wrinkles
Dull skin – Post holiday, Post summer or an over indulgent weekend this treatment will leave your skin revived and refreshed
Acne/Acne Scarring – this treatment softens the look of scars and dislodges bacteria from pores
Pigmentation – HydraFacial involves an element of dermabrasion, which can reduce the visibility of pigmentation caused by sun damage or pregnancy
Dry / Dehydrated skin – Hyaluronic acid, peptides and antioxidants penetrate the skin as part of the HydraFacial to leave it hydrated.
Leave a Review About this Treatment