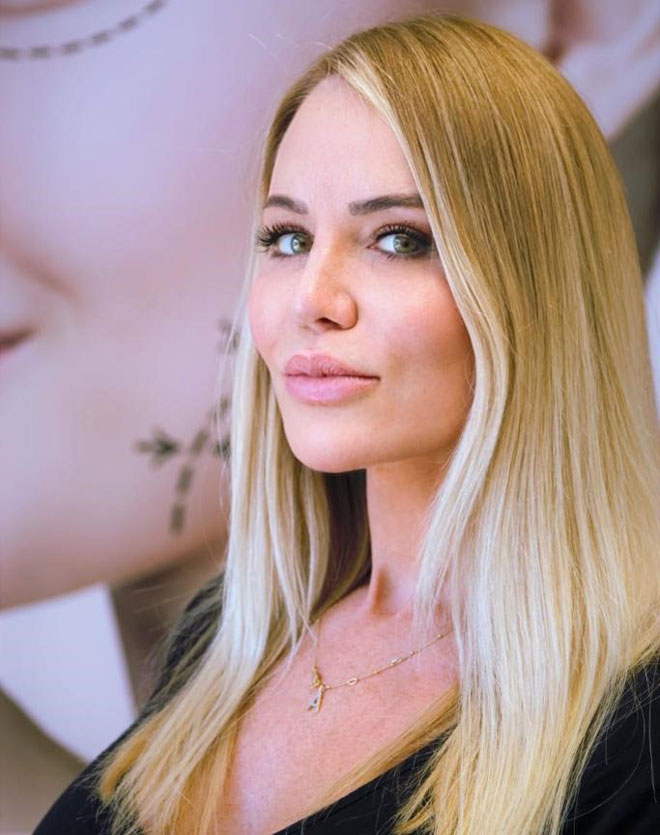 Abi Farrow
CEO of The Enhance Me Group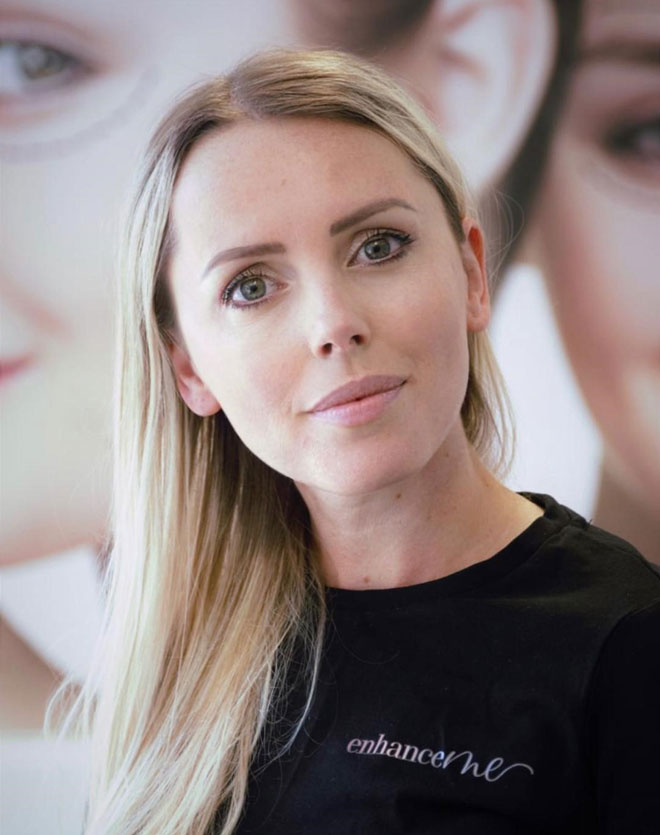 Sarah Roberts
Head of Education and Clinical Treatments
Sarah works mainly in the Academy department teaching and training all our Aesthetic courses and looking after our excellent team of tutors and practitioners.
She is a qualified Teacher, Assessor and Aesthetic Practitioner; carrying out all Injectable treatments, Laser, and Advanced Skin treatments.
"I love working in a business that is at the forefront of the latest treatments and technology, and I'm so privileged to get to meet so many wonderful students and clients, I really enjoy teaching others, passing on my experience and knowledge. My favourite treatment to carry out in the clinic would be Chin Augmentation… I love the instant transformation!"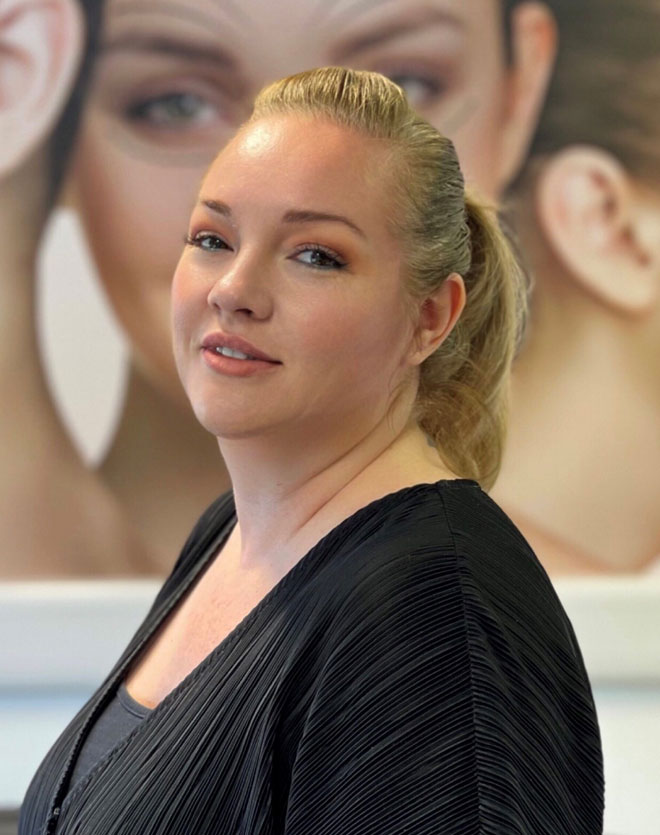 Tina Byers
Academy Tutor / Clinic Skin Specialist
Tina has been working within the beauty industry over twenty-five years. Seventeen of these years include teaching beauty therapy skills to others, within the private and public further education sector, to help prepare them for a career within the beauty and aesthetics industry.
Tina's qualifications include NVQ's in Levels 2 & 3 Beauty Therapy, diplomas in aromatherapy and reflexology, advanced massage techniques as well as many other treatment skills over her career. In addition to numerous beauty and aesthetic qualifications Tina has achieved various OFQUAL regulated teaching, assessing and quality assurance qualifications.
Tina has a particular interest in skincare and has worked with many professional skincare brands, including Dermalogica where she achieved the status of Dermalogica expert. Tina is happy to share her extensive knowledge to assist others in improving and maintaining their skin health and condition
Tina's role at Enhance Me includes supporting students in various aspects of the course delivery as well as performing treatments, in the Enhance me clinic, on clients on 'Tina Tuesday's'.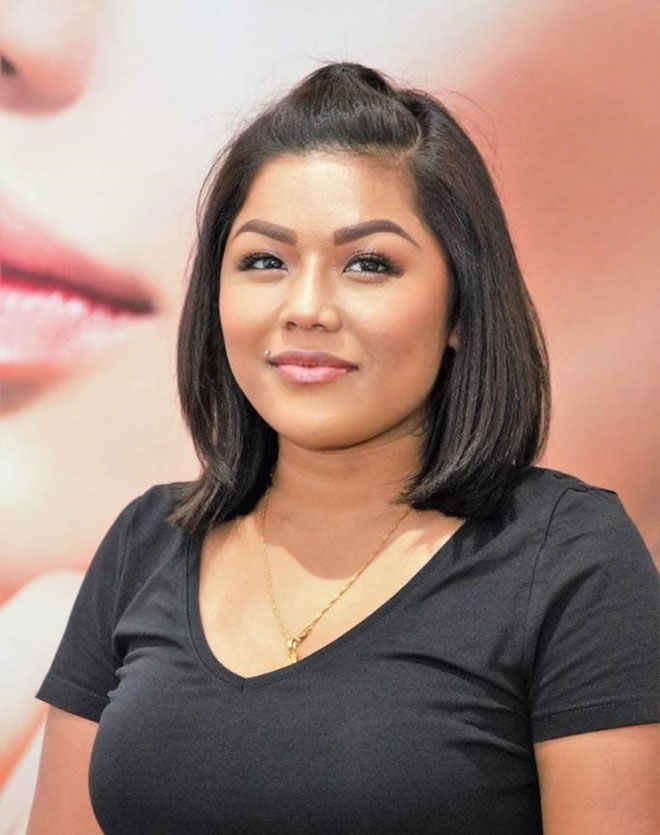 Mooky Forsyth
Elite Permanent Makeup Technician
Mooky has is one of the longest serving members of Team having started as an apprentice to Abi over 6 years ago.
Upon embarking on her journey to become a Permanent Makeup Artist in order to hone her skills, she shadowed other technicians and worked on models for approximately a year before passing her apprenticeship with flying colors. She now has developed her own unique style of permanent cosmetic application which has seen her develop her very own loyal customer base of hundreds of clients as she delivers an array of permanent cosmetic enhancements on eyebrows, lips & eyes.
She is a pioneer in the development of Enhance Me's own trademarked permanent makeup eyebrow treatment the famous 'Express My Brow' & also specialises in the bespoke design & application of Hairstroke & Ombre eyebrows for clients that have little or no hair. Mooky has an exceptional eye for detail, and is meticulous with the design & shaping process of each permanent cosmetic enhancement that she delivers. Mooky's other passion is cooking her native Thai food, and travelling back to her home country with her husband.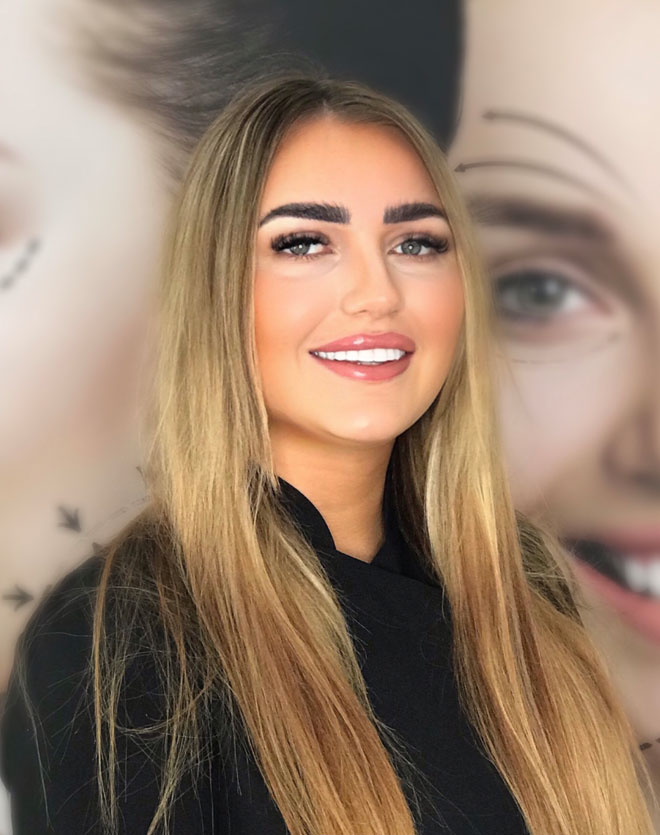 Saffron Betts
Aesthetics Practitioner
Saffron works mostly in the clinic providing all injectable treatments. She is responsible for consulting and a administering non surgical cosmetic treatments to the highest of standards to create the most beneficial enhancement for the client. She also participates along side the Clinic Director in the Russian Lip masterclass!
"I absolutely love working in this industry as it is so rewarding! I work with the kindest team here at Enhance Me, my favourite treatment would be Russian Lips, they are a piece of art! Closely followed by Liquid Rhinoplasty"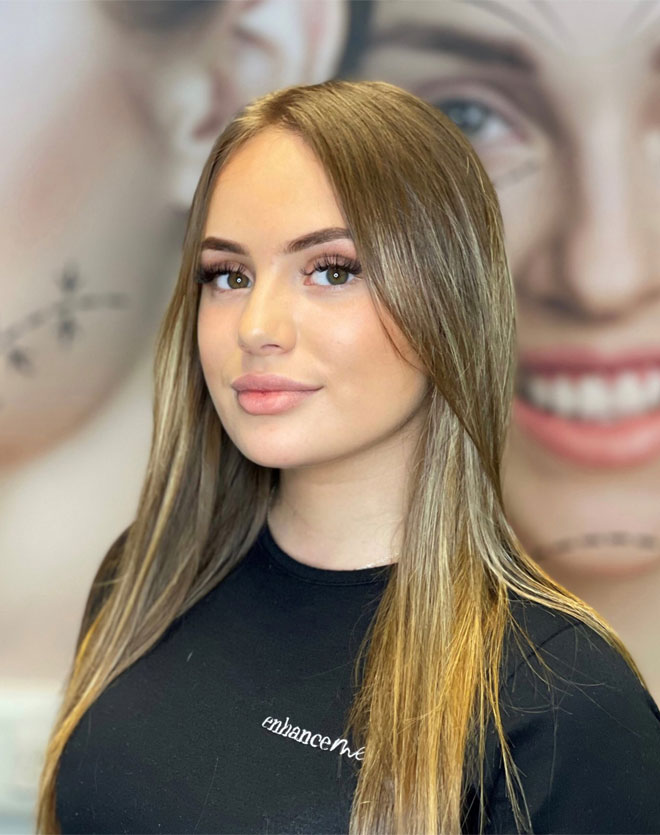 Mia Carter
Social Media Manager
Mia works within the Clinic & Academy capturing content of our Training Courses & Clinic Transformations. She communicates daily with our Social Media audience by creating fun, engaging & jaw dropping posts & stories! Mia is the youngest member of the team and loves keeping up with the latest trends on Social Media!
"I started at Enhance Me 3 years ago as a school leaver, and learnt aspects of each department as I developed in the business. I've now found my fit as a Social Media Manager and enjoy the creativity of my role. The best part of my week is working with influencers to build our online profile & showcase the incredible talent within our Team"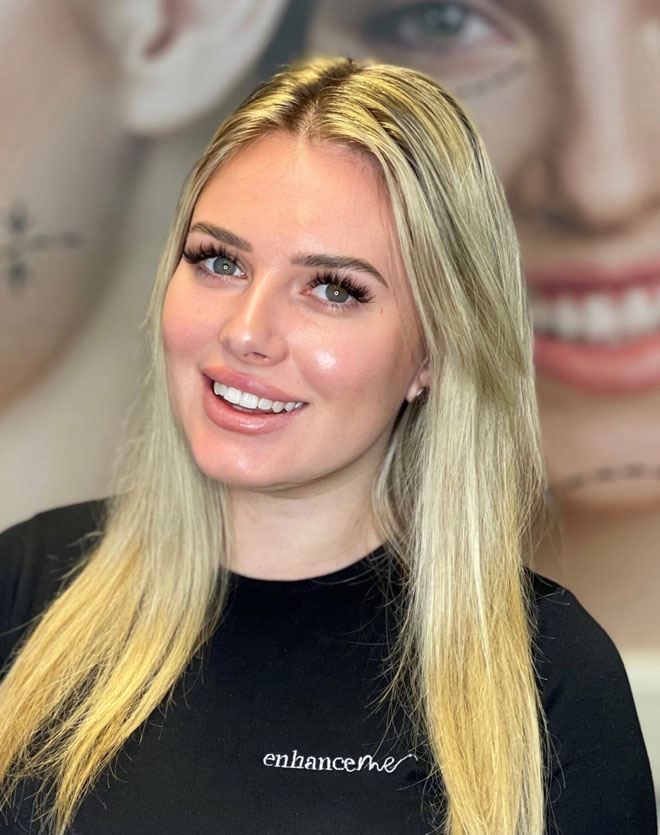 Laura Forster
Aesthetic Nurse
Laura works within the academy department teaching students aesthetic treatments such as fillers and anti-wrinkle injections. She is a qualified nurse and tutor.
'I love working within such a fast-paced clinic and learning new things about the industry every day. We have a fabulous team of hard working and dedicated individuals, motivated to bring clients and students the very best. I also feel so lucky to be meeting and working with so many lovely students. My favourite course is Profhilo as the results are so satisfying!